Patches Heart Group offers support at a time of need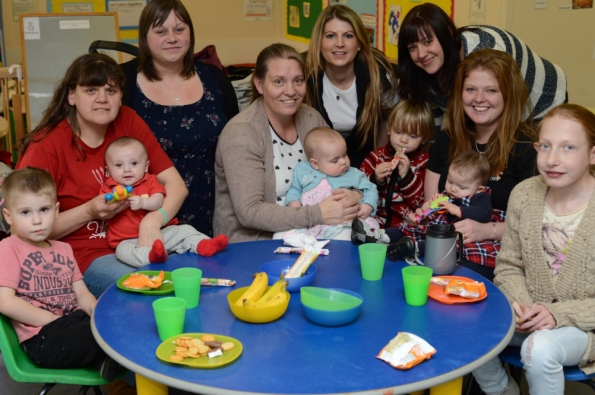 Pictured is the Congenital Heart Disease support group Patches, at Summer House Children's Centre. Pictured back row centre is founder Maria Linfield.
By Helen Beighton
Published on Wednesday 27 February 2013 10:00
THERE can be few things more devastating for a parent to hear than being told that their newborn baby has a serious heart problem.
But whereas in the past people may have felt like there was nowhere to turn, the work of Sutton mum Maria Linfield means that they do not now have to face their fears alone.
Maria set up Patches Heart Group following her own experiences of having a child born with a congenital heart defect (CHD).
Her daughter Casey Beau Johnson, now seven, will soon be having her fifth open heart surgery.
Said Maria: "There's nobody better to understand what it's like than a 'cardiac mum' who has been living it themself."
Patches meets at the Summer House Sure Start Centre in Sutton twice a month and also offers support via its Facebook page and over the telephone.
It has been such a success that the model for the group is being used to set up new groups in Leicester, Sheffield, Nottingham and Clacton - with help from Maria and the Patches team.
"The need is so great because there's nothing else out there in the community, only the ones attached to the heart hospitals," said Maria, who also has two sons, Brock (9) and Bode (3).
"We didn't know anyone else anywhere other than the people we met at Glenfield.
"When we came home, the health visitors had no idea of heart families in the area, the midwives didn't, nobody knew anybody we could talk to, so we just felt completely alone.
"To go out and mingle in a normal mother and toddler group with a child with a scar on her chest and everyone looking at you - you didn't feel that you fitted in with anybody else.
"Once I had got to the point where I felt strong enough to be able to cope with everything going on in our own lives, I wanted to make the difference to other families.
"I didn't want people to feel how I did as a mum. Nobody should feel alone and unsupported and have nowhere to go."
Patches has helped bring the issue of CHDs more into the public conscience, but there is still a lot of work to be done until it is more commonly known about.
There are over 40 different CHDs known to doctors and up to one in 100 children born in England and Wales will be affected.
Congenital heart defects are the leading cause of death among children in the country, with twice as many children dying from CHDs than all childhood cancers combined.
Said Maria: "Our concern is that there is nowhere near enough awareness - it's all too common for CHDs to be missed pre-natally and for heart murmurs to be shrugged off as nothing, when in actual fact many of the supposed murmurs can turn out to be complex cases of CHD. In some cases a late diagnosis can be fatal."
Now that Patches is expanding, Maria hopes that families living in other areas will also benefit from the support.
"It shouldn't be about where you live, everyone should have somewhere where you can go," she added.
One mum from Stevenage, Gemma, who has been in contact with Patches since finding out her baby Logan had a CHD said: "Patches has been great support since I was 20 weeks pregnant. It was the most devastating time for me, but then I found Patches. Maria has become a big sister to us all."
For more details on Patches, visit www.patchesheartgroup.webs.com or see Facebook at www.facebook.com/patchesheartgroup.